On the front lines of the invasive mussel war
walterpallad1 day ago
By Don Urquhart, Times Chronicle
This is part one of a two part series on the fight to keep B.C.'s waters free of invasive mussel species.
It could almost be considered a war and one that carries with it a potential $62 million price tag should that conflict be lost.
Right now the battle to keep zebra and quagga mussels – both aquatic invasive species – out of B.C. is being waged successfully thanks to rising awareness amongst the general public and critically the "boots on the ground" in the form of inspectors from the B.C. Conservation Officer Service.
The $62 million economic toll that these two species would take should they make it into B.C. waters is only an estimate, but one based on the real life experience of Ontario and various U.S. states.
Canada-wide aquatic invasive species cost the country at least $580 million per year (2017 figure). Both zebra and quagga mussels are native to the Black Sea region and were introduced to Ontario in the late 1980s via ship ballast.
Sgt. Josh Lockwood, NCO North Okanagan Operation, Conservation Officer Service, Ministry of the Environment and Climate Change Strategy notes, the impact to B.C. would be widespread and severe.
Among the impacted areas would be recreation (leaving beaches with razor sharp shells and boat motors clogged), recreational and commercial fisheries, agriculture and hydroelectric facilities (clogged water intake pipes), and municipal infrastructure.
The speed with which the mussels spread make them very difficult to eradicate and very costly to remove once established.
Luckily for B.C. waters the fight to keep the province free of this invasive mussel scourge got some added, pardon the pun, "muscle" back in 2018 when biologists were joined by conservation officers who have substantial enforcement capabilities. This was at the behest of Lockwood who had been tasked with setting up the mussel monitoring program in 2015 but then pushed for better enforcement powers.
The conservation officers hold Special Provincial Constable Status under the Police Act and have legal powers of search and seizure similar to that of police.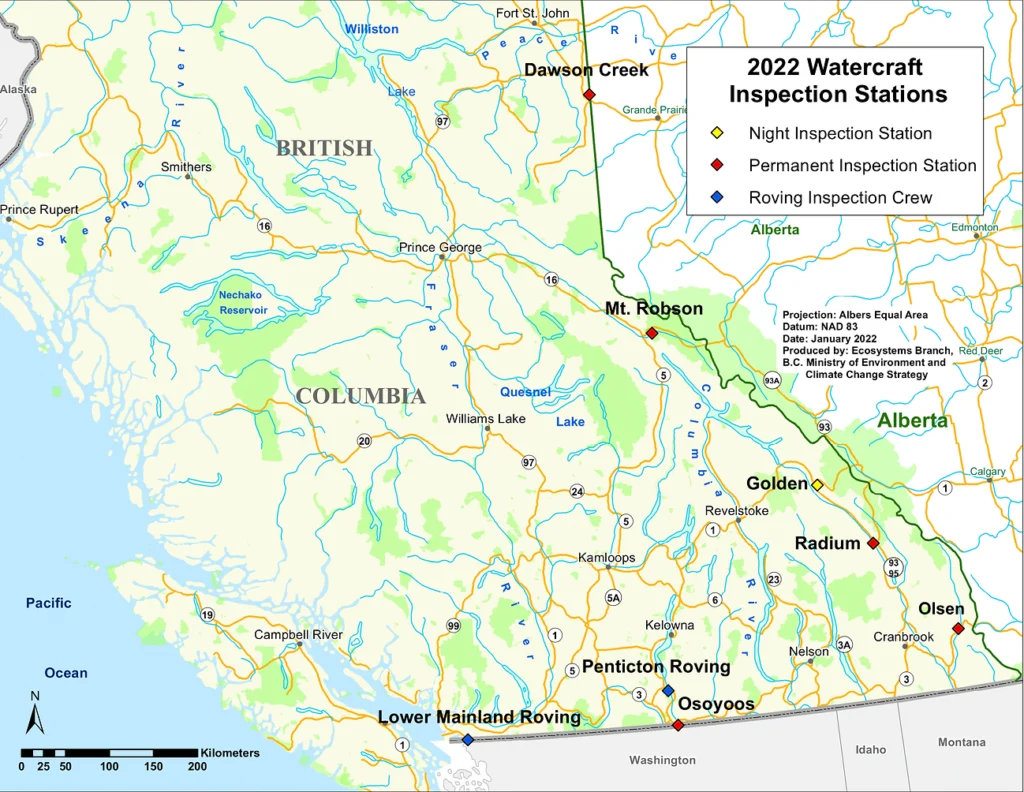 Currently there are 62 conservation officers and inspectors in the province with the Interior covered out of Penticton. Since 2015 more than 200,000 inspections have been carried out across the province according to Lockwood. Both fixed and roaming inspections are undertaken as well as at border crossings.
When no conservation officers are on duty, Canadian Border Service Agency (CBSA) officers will interview those with boats and if contamination is suspected the boat will be impounded until the conservation officer can take a look.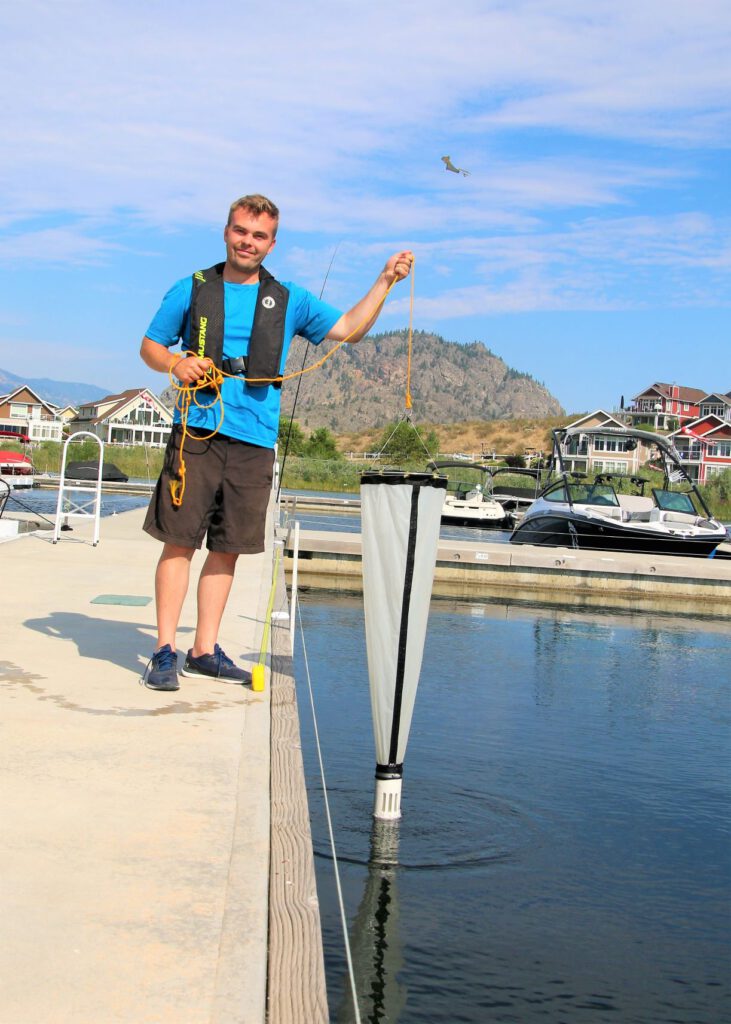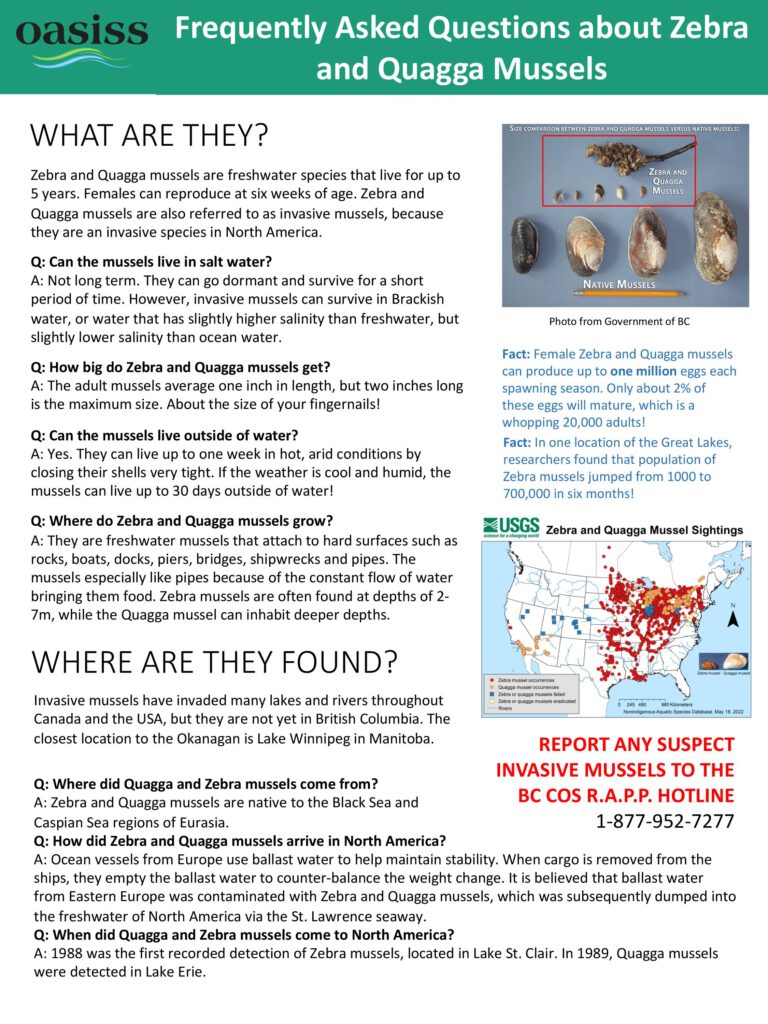 Lockwood is quick to point out the very large number of partners they have across B.C., from government bodies to water-focused organizations like the Okanagan Basin Water Board (OBWB), Okanagan WaterWise and the Osoyoos Lake Water Quality Society (OLWQS) who provide critical public education and awareness.
All boaters – which includes motorboats, sailboats, kayaks, canoes, windsurfers and even paddleboards – are required to stop at highway inspection stations and ad hoc mobile inspections as well. Failing to stop for inspection will result in an immediate $345 fine and confiscation of the water craft for inspection.
The transport of zebra and quagga mussels violates both Federal and Provincial laws and boaters can be fined, at minimum, $252 per specimen, for every mussel found on their boat up to a maximum fine of $100,000.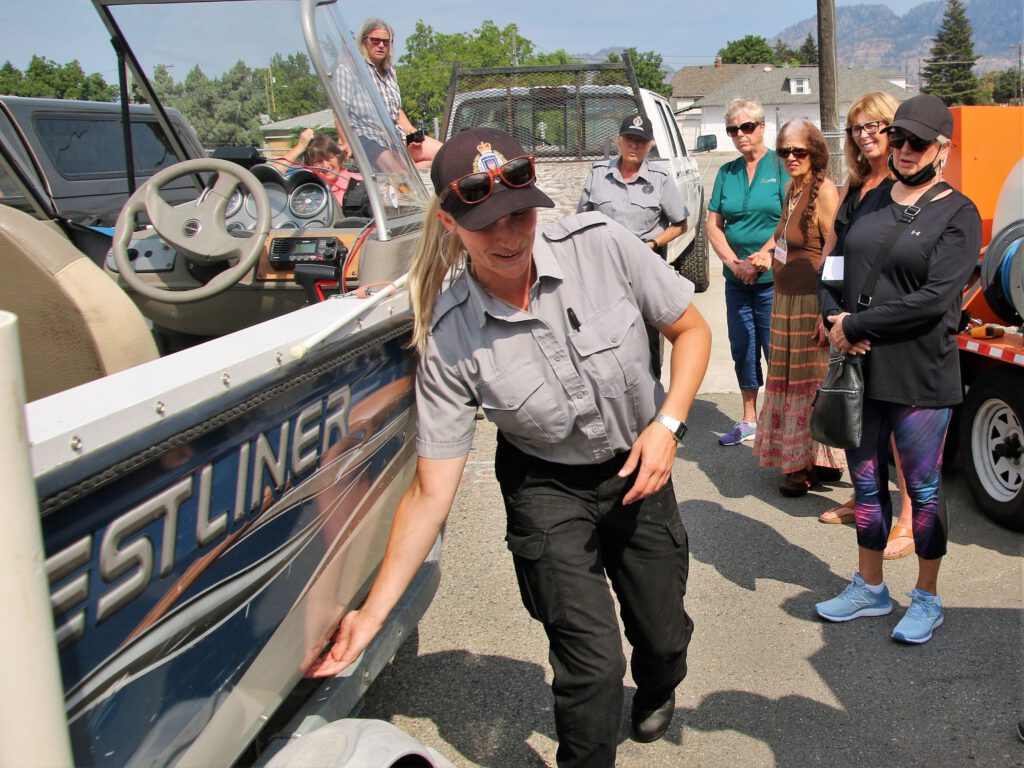 Inspection is as simple as running a hand along the hull of the boat because as Rebecca Benham, Aquatics Invasive Species Inspector with the Conservation Officer Service, Ministry of the Environment and Climate Change Strategy explains, the mussels make the hull feel like sandpaper. The main focus however is typically on the engine, around the gimbal, the propeller and the main intake areas.
On larger boats they also use a flexible microscope. "They are really small and quite hard to discover but we know exactly where to look." They even hide in some of the drive slots on little bolt and screw heads, she added. Boat trailers are also inspected.
If mussels are found or if they suspect there may be some they can't see, the boat will then be decontaminated by high pressure wash with very hot water. This includes running the hot water through the running boat engine. And if trailers have been dunked they too will be inspected and pressure washed if necessary. Significantly no chemicals are used, only hot pressurised water.
Boat owners are also interviewed about where they've been and where they're going which helps determine if they have come from a high-risk area. They also check for "drain, clean and dry" for other invasive species as well such as eurasion water-milfoil.
If mussels are detected on a boat but they have no ability to decontaminate it on the spot, the boat would then be sealed and a "Decontamination Order" would be placed on it. The boat must then be decontaminated or inspected again after 10 days. If the boat is launched before that time the seal would be broken.
The conservation officers also get a hand from their canine colleagues, K9 Kilo and K9 Major who, with their finely tuned sense of smell, can pick out an invasive mussel in no time. B.C., Alberta, and Washington state are the only jurisdictions with invasive mussel detection dogs.
A key aspect to keeping mussels out of B.C. is for boaters to practice "Clean, Drain, Dry".
• Clean all plants, animals and mud from the boat and equipment including things like fishing gear;
• Drain onto land all the water from bait buckets, live wells, pumps, motor, bilges and removing the drain plug;
• Dry all items completely before launching in another body of water.
Lockwood is optimistic that the requirement to Clean, Drain, Dry will be made mandatory by next summer, carrying a fine of up to $300 for failure to do so.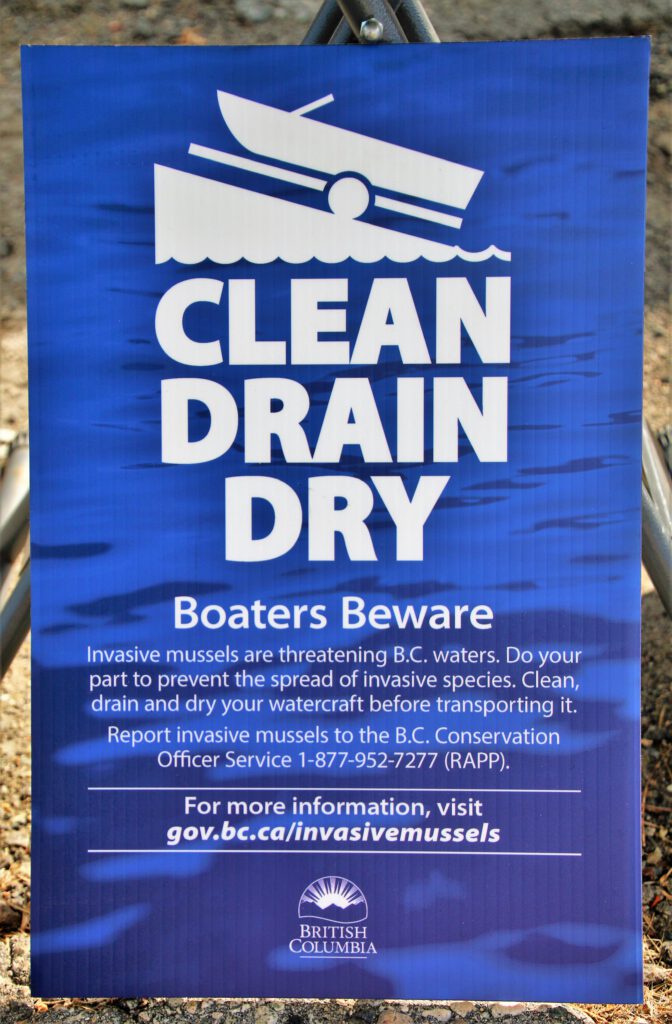 Big push to stop invasive mussels at the border
Federal muscle needed to fight invasive mussels
On the front lines of the invasive mussel war Source link On the front lines of the invasive mussel war