Busy spring for Osoyoos Lake water quality group
Posted by Times-Chronicle | Jun 25, 2022 | Featured, Osoyoos | Don Urquhart, Times Chronicle
Newly-elected directors of the Osoyoos Lake Water Quality Society meet on the organization's pontoon research boat moored at Sunrise Marina. From left are president Birgit Arnstein, secretary Barb Chipperfield, members-at-large John Gates and Dave Kumka, and vice-president Mark Karstad. Missing from photo is treasurer Donna Karstad. Photo Credit Neil Bousquet
It's been a busy couple of months for the Osoyoos Lake Water Quality Board (OLWQB) with a shift to a new moorage, changing board composition and the annual yellow fish stencilling around town.
The best news of all was the granting of a complementary berth at the Sunrise Marina for OLWQB's 5.8 metre water quality monitoring pontoon boat by the Town of Osoyoos.
The boat goes out every two weeks with up to four people on board (five if they are undertaking training) and spends a few hours collecting water samples around the lake.
The non-profit, volunteer-driven group had to exit its long-time home at Walnut Beach Resort and had been searching earlier this year for a new mooring spot. After a wide-ranging but fruitless public appeal to businesses and private homeowners, an appeal to the Town to be given priority for one of the much-sought-after berths at Sunrise Marina was made and ultimately granted.
There was a slight delay before the boat was shifted to its new 'digs' in mid-May due to a Town requirement that the OLWQB obtain the required level of liability insurance.
One downside of the new location is that the OLWQB has no storage space with the new town moorage. "We really enjoyed having the boat at Walnut Beach Resort because it provided good moorage for our boat but it also provided a fabulous storage space for all of our equipment and we've lost the lovely storage space," explains Birgit Arnstein, OLWQS president.
"So now our equipment is being stored in one of our volunteer's homes and in my crawl space," she adds with a laugh. There are pros and cons to the new location, but at the end of the day we are delighted to have this space.
"It's basically a year-to-year arrangement but we expect we will be able to put in a request and do this on an annual basis."
Yellow fish road
The water quality organization has also been busy painting the town yellow with its annual stencilling of yellow fish near storm drains around town.
Ten volunteers from the OLWQB gathered in the early morning on Sunday, June 12 at the Town Hall parking area to pick up paint, stencils, maps, traffic cones and reflective vests. The two-person teams fanned out covering much of the important roadways, starting with waterfront roads, according to Arnstein.
"We do this to remind people that what you put into the storm drain may affect various life forms in the lake such as fish," said Arnstein.
"It's a simple, yet significant gesture that reminds everyone how precious our Osoyoos Lake is and how important it is to keep it that way for future generations to use and enjoy."
"I'm hoping the people see the fish and just give it a thought and wonder why there were fish there. While we were doing the stencilling all the volunteers reported back that there were people that came up to them asking them what they were doing," she said.
She noted they were all wearing Town of Osoyoos vests so people thought they were paid to do it which is unfortunate because she wants people to appreciate the fact the organization is purely volunteer-driven.
The yellow fish are painted using non-toxic latex paint, repainting the faded fish of last year or painting new ones.
While a large area was covered, the team will head back out for one more morning to finish off Main Street as traffic was too heavy on June 12 to complete it. Typically they start early and end by about noon because of both heat and traffic.
The weather has been a challenge but Arnstein notes they had a perfect day for the painting which is all-important given that the paint is water-soluble until dry.
This year Arnstein wasn't able to engage the local schools due to the time needed to make arrangements around shifting the water testing boat to its new mooring.
In the past, she says the elementary school children have been involved in shoreline cleanups and other events while the secondary school has taken part in the yellow fish painting.
Trout Unlimited Canada is credited with coming up with the concept of painting yellow fish around storm drains in 1991 which became the award-winning Yellow Fish Road program.
This has been Canada's premier water education program educating Canadians that storm drains are the doorways to our rivers, lakes and streams and anything other than rainwater can harm life in and around the water, as well as Canadians who need clean water.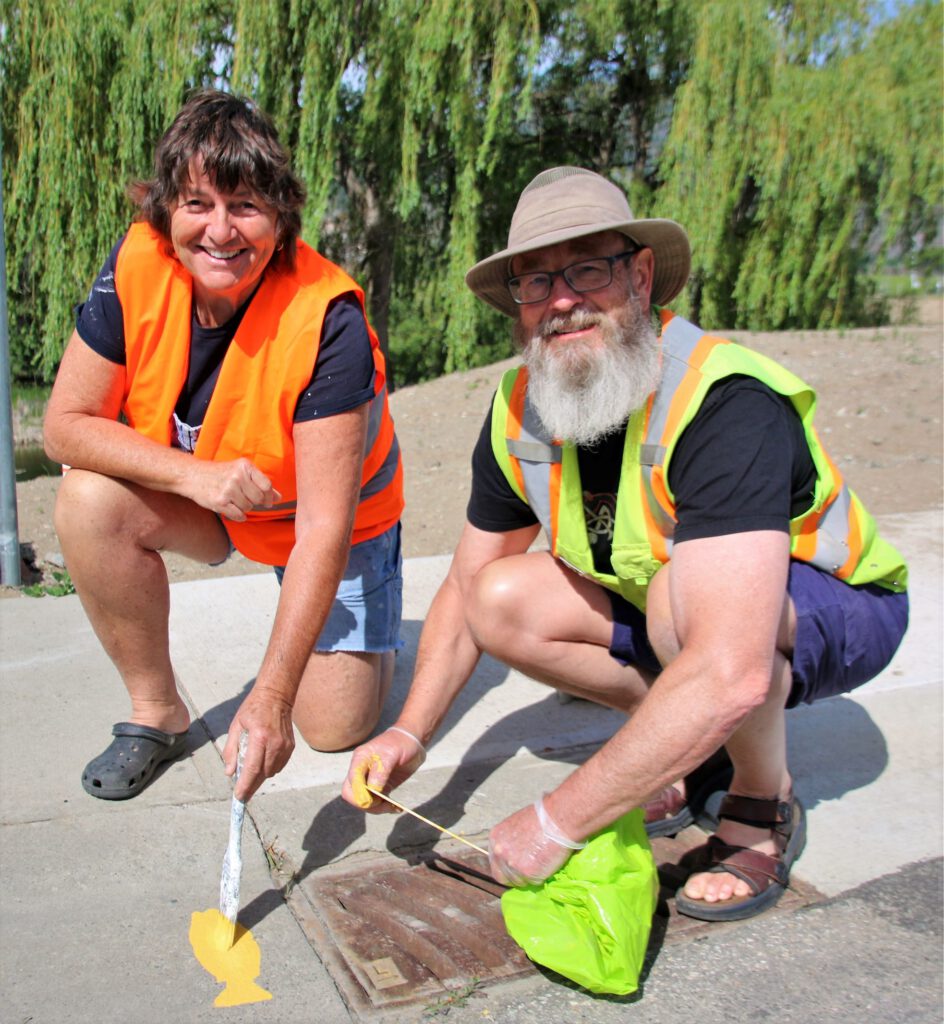 Changing personnel
"This past year was like no other for our Society," said Arnstein reflecting on what was pretty much the reality for everyone over the past two pandemic years.
Following all the health and safety protocols the organization was not able to conduct any of its normal fundraising and educational events throughout the year. But importantly, "we still managed to monitor Osoyoos Lake water using our trained volunteers and pontoon boat."
This year sees a new addition to the Osoyoos Lake Water Quality Board of Directors – Dave Kumka who will work closely with fellow board members Julie Umberger (director at large), Deb Sherwood (vice-president) Maxine Boxwell (treasurer), Barb Chipperfield (secretary) and president Birgit Arnstein.
Unfortunately, the organization is losing Pontoon Boat Captain Brian Faltinson. "We are sad to lose our boat captain who has been an amazing resource on all things related to boats."
Arnstein notes Faltinson was instrumental in securing the pontoon boat and motor and getting it set up for use. She says he spent countless hours making sure all the parts were connected.
"He has managed both the winterizing and preparing our boat/motor for launch each spring. Brian has also trained other captains and has overseen the safe operation of our boat for many years," she added.
Iain Fraser will manage the boat during this monitoring season, but Arnstein said that going forward they are looking for a new boat captain with a valid Pleasure Craft Operator Card and technical knowledge of boat maintenance.
"Kudos to all of our wonderful volunteers who continue to support our Society's efforts to collect important water data, fundraise, educate and promote public awareness of the lake, covering issues such as conservation, pollution and lake management."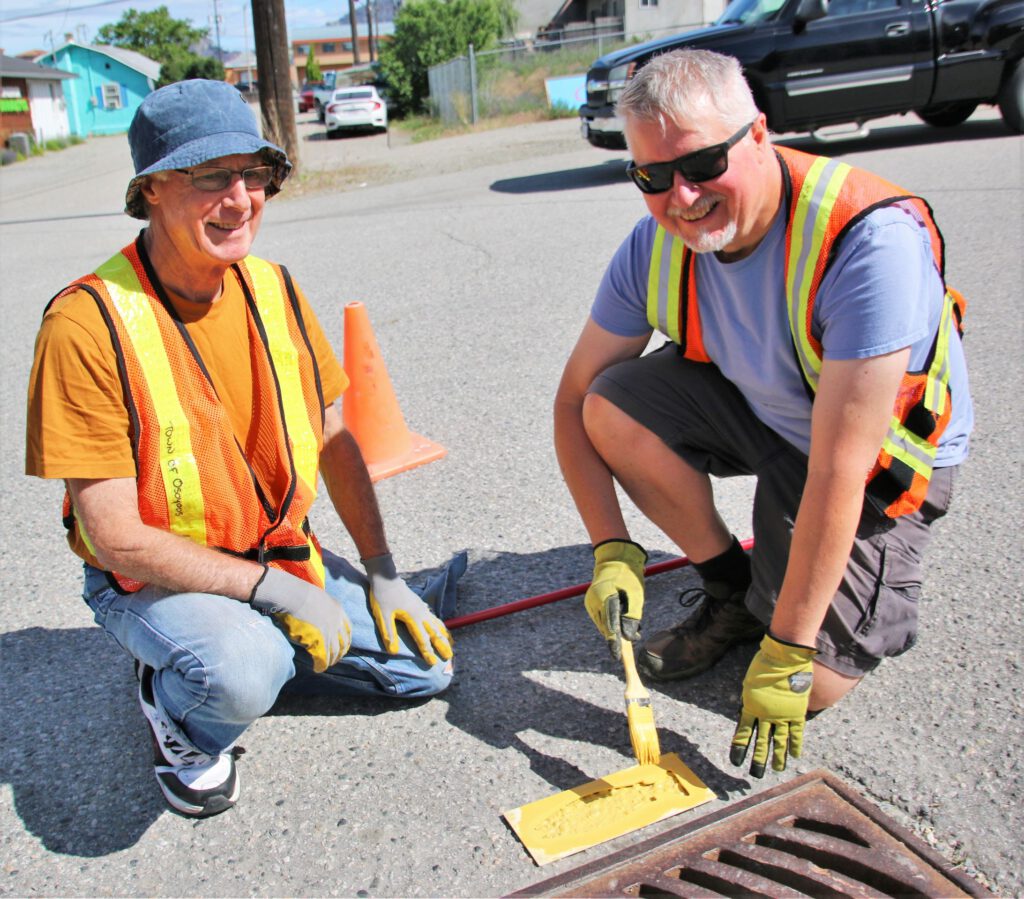 "We also could not survive without the heartwarming and generous support of local organizations," she said, highlighting the generosity of Walnut Beach Resort over the years as well as the Town of Osoyoos which aside from the Sunrise Marina mooring, continues to provide the organization with winter storage space for the boat and trailer and free meeting space at Sonora Centre.
The volunteer-driven society has been monitoring Osoyoos Lake since the early 1990s with the data collected going to the Ministry of Environment and Climate Change. The data is used to determine the health of the lake and evaluate what effects climate change may have on it.