The Okanagan and Similkameen Invasive Species Society (OASISS) is enlisting the support of community members for the third year of a citizen science project aimed at protecting Okanagan lakes from invasive mussels.
The project is seeking residents who own private docks on Kalamalka, Wood, Okanagan, Skaha and Osoyoos lakes. Volunteers will be provided with a pair of monitors to attach to their docks and will be required to check them for invasive mussels every two weeks from July through September.
Lisa Scott, Executive Director of OASISS, emphasizes the significance of community involvement, stating, "This project presents a unique opportunity to expand our monitoring efforts to regions that were previously inaccessible. By engaging residents, we can help to protect our lakes from invasive mussels."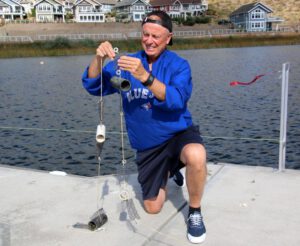 The project is being funded by the Okanagan Basin Water Board's Okanagan WaterWise outreach andeducation program as part of its "Don't Move A Mussel" campaign. This effort augments invasive mussel monitoring in lakes across the province and run by the B.C. Ministry of Water, Land and Resource
Stewardship.
Zebra and Quagga mussels have infested close to 700 lakes in North America since they were first introduced to the Great Lakes in the late 1980s. To date, there has been no reported introduction of live zebra or quagga mussels into B.C. lakes or waterways. However, the risk of contamination through watercraft is ever-present, making early detection crucial.
The consequences of an invasion would be dire, causing irreversible damage to lake ecosystems, water quality, recreation and tourism, and municipal water infrastructure. "An invasive mussel introduction would impact every member of our community," warns Scott. "This project offers a chance for people to actively participate in combating an important environmental issue that affects us all. Our lakes are central to our community and protecting them has never been more imperative."
If you are interested in this citizen science project, contact volunteer@oasiss.ca 
For more information on the risks invasive mussels pose to the Okanagan and find prevention tips, visit www.DontMoveAMussel.ca