RON SEYMOUR
Apr 7, 2020 Updated 8 hrs ago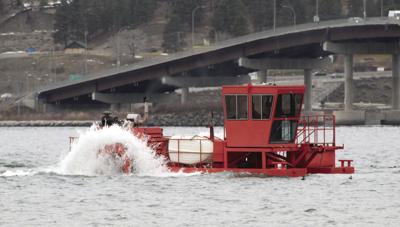 Weed-control efforts in Okanagan Lake are deemed an essential service and will continue despite the COVID-19 pandemic, Valley politicians heard today.
The winter harvesting of Eurasian milfoil wrapped up last week and the summer time program, which involves the trimming the tops of the slimy lake weeds, is to go ahead as planned.
Under the provincial definition of essential services, weed-control in lakes qualifies both because it is a form of "vegetation management" and because it is a function of local government, reads part of a report from staff of the Okanagan Basin Water Board.
"Continued milfoil control will be essential for the economic recovery after the pandemic, and is also essential for maintaining source water quality in our lakes, and public safety at our beaches," OBWB operations manager James Littley says.
Although the weed-plucking machines are operated by one person, staff observe physical distancing regulations when they are together and equipment is being cleaned to a higher standard than usual, Littley says.
"When launching and retrieving machines from the lakes, the operators have not been sharing vehicles as they normally would, and have been maintaining at least a two-metre distance from each other at all times," Littley says.
Mechanical efforts to control Eurasian milfoil, which is considered an invasive spices, began more than 40 years ago. The weeds grow in shallow water and, left unchecked, they would diminish water quality for other aquatic species and foul popular swimming areas.
The OBWB is overseen by a group of politicians representing towns and cities across the Valley. Their regular meeting is today, with most participating online.