Weed war expands again in Valley lakes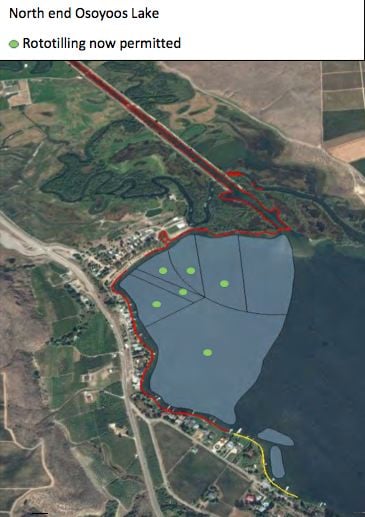 RON SEYMOUR
Oct 31, 2019 Updated 6 hrs ago
Weed control efforts in valley lakes will be expanded this winter now that the province has relaxed rules against rototilling in several areas.
Machines that yank Eurasian milfoil out by the roots can now operate at the north end of Osoyoos Lake, near popular Kin Beach at the north end of Okanagan Lake, and in front of the Casa Loma resort in West Kelowna.
"It's good news in the sense that areas where we can roto-tilling have been expanded from the restrictions that were put in place," James Littley of the Okanagan Basin Water Baord, which conducts the weed-control program, said Thursday.
"But the bad news is we continue to have concerns about the potential for the long-term degradation of the program, which has been running for more than 40 years," Littley said.
Since 2013, provincial officials have scaled back areas where roto-tilling can occur out of concern for its potential impact on the Rocky Mountain ridged mussel, considered to be a species at risk in the Okanagan.
But the OBWB countered that there was no scientific evidence roto-tilling harmed the mussel. And left unchecked, the OBWB warned, the invasive Eurasian milfoil would degrade the habitat for many aquatic species as well as blight popular swimming areas, potentially affecting tourism.
Earlier this fall, Ottawa decided not to formally declare the mussel to be an endangered species. More research needs to be done on what impact, if any, roto-tilling has on the mussel, the federal government said.
The provincial government reduced the areas where roto-tilling of the weeds is prohibited in a notification sent to the OBWB in late September.
"The ministry recognizes the importance of milfoil control to recreation and tourism within the Okanagan, as well as the need to manage for native species and their habitats," Paul Rasmussen of the Ministry of Forests, Lands, Natural Resource Operations and Rural Development wrote in a letter to the OBWB.
Although rototilling is still prohibited in some historic treatment areas, the overall prohibited areas have been reduced compared to the initial permit issued just six months ago, Littley writes in a report to be considered by the OBWB board of directors, made up of Okanagan municipal politicians, next Tuesday.
The OBW spends about $820,000 annually, most collected from Okanagan property owners, to control milfoil. In the '70s, there were fears that the weed would spread throughout valley lakes. The wintertime roto-tilling program, and a summertime trimming of the weeds' tops, are aimed at controlling milfoil and limiting its growth, rather than eradicating it.
Osoyoos Lake is particularly vulnerable to milfoil, Littley says, because the weeds thrive in its relatively warm and shallow waters, and many nutrients are washed down the Okanagan River.