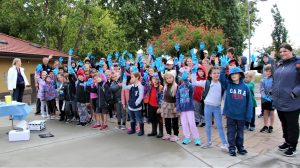 Approximately 85 Osoyoos primary school children participated in the OLWQS's annual shoreline cleanup today.
Their efforts were bolstered by several local citizens who also volunteered to pick up garbage.
After gathering at Gyro Park at 9:30 AM, the children, under the direction of their teachers spread out across several different locations along the shorelines of Osoyoos Lake to collect garbage.
"What's different his year," says OLWQS President, Birgit Arnstein, "is that the children took back the refuse to school to evaluate, as part of the school's ongoing education segment."
The cleanup was also aided by several local resident volunteers. One of those people was employed at Interior Savings in Osoyoos. The company encourages its staff to volunteer for Town of Osoyoos projects.
Arnstein was pleased with the turnout and the weatherman.
"What a beautiful day for a shoreline clean-up — the breezes cleared out the rain clouds bringing forth a lovely, blustery, sunny day!"
Arnstein also praised the Town of Osoyoos for providing garbage and recycling bags for the shoreline cleanup crews.