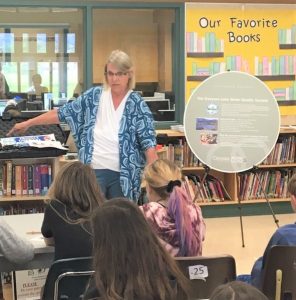 One of the OLWQ's important initiatives is educating tomorrow's citizens about the environment in which they live.
OLWQS president Birgit Arnstein recently spoke with grade six and seven students at Osoyoos Elementary School.
During her talk, Arnstein spoke about the society's history and described the work its many volunteers conduct year-round.
She also showed students the Hydrolab-4 and explained the type tests that are conducted with this sensitive and expensive underwater instrument.
Arnstein also demonstrated different types of gear the society's Pontoon boat carries including the plankton net and secchi disc which are both used to measure different aspects of Osoyoos Lake's water quality.
As well, she explained the importance of the Clean, Drain and Dry program and how OLWQS tests for invasive mussel larvae with its veliger net.
Explains Arnstein, "Our presentation was well received and the students asked a number of very good questions. We know that some of the students took home our invasive species information to share with their moms and dads."
"Knowledge is power and hopefully by informing tomorrow's citizens about the importance of our environment, future generations will continue to experience and enjoy our beautiful Osoyoos Lake."