War on mussels needs more resources,
water managers say
RON SEYMOUR  May 5, 2020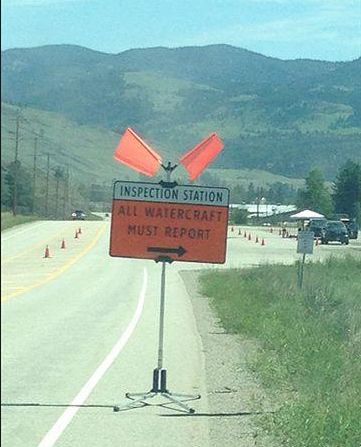 Bolstered funding for a program to prevent the arrival in Valley lakes of an invasive mussel is more important than ever because of the coronavirus pandemic, water managers say.
Directors of the Okanagan Basin Water Board on Tuesday called on the government to restore grants for the program to 2017 levels.
And they also want legislative and operational changes to better ensure boats towed into B.C. are free of the zebra and quagga mussels, which can devastate aquatic ecosystems and foul beaches.
"In light of the current COVID-19 crisis , it is apparent – more than ever – the devastating impacts that an invasion of these mussels would have on the Okanagan and the province, especially while we try to recover from the impacts of this pandemic," board chair Sue McKortoff, the mayor of Osoyoos, writes in a letter to Environment Minister George Heyman.
"We recognize the incredibly difficult economic position that this pandemic has caused for the government and people of B.C. and that is why we continue to urge your government to take all necessary action to prevent the introduction of the species which could significantly add to the economic fallout," McKortoff says.
Tourists who bring boats into B.C. are supposed to stop at checkpoints to have their watercraft inspected to make sure the mussels are not attached. But there are "serious gaps" in the locations and operating hours of the inspection stations, McKortoff says.
As well as expanding the inspection network, the OBWB wants the government to pass a law requiring incoming boat owners to remove the drain plug of their boat before towing it. That would less the chance the vessel could transport the mussels, the OBWB says.
Funding for the inspection stations has been reduced in recent years, the OBWB says, asking the government to restore grants to the 2017 level of $4.45 million.
Between April and mid-September last year, inspections were carried out on more than 50,000 vessels being brought into B.C. Nineteen boats were found to be carrying the mussel.
Staff at inspection stations look over the hull and propellor of each boat and can also use specially-trained dogs to sniff out the mussels.