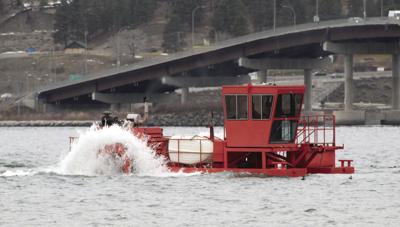 Wintertime weed-harvesting efforts now underway along Kelowna's beaches haven't turned up many thick patches of Eurasian milfoil.
A relatively cool and cloudy summer in 2019 hindered the growth of the slimy lake weed, officials with the Okanagan Basin Water Board say.
"We haven't notice any particularly bad areas in Kelowna so far this winter. Last summer was relatively mild for milfoil growth likely because the weather was somewhat cool, cloudy, and rainy," James Litttley of the OBWB said Thursday.
"Milfoil thrives in very clear, hot conditions when there is not a lot of rain to reduce water clarity," Littlley said.
In winter, harvesters yank the milfoil out by the weed's roots. The daily operations area can range from a quarter-acre to several acres, depending on the thickness of the milfoil in different areas.
The winter de-rooting campaign looked to have been imperilled last year when there was a possibility the Rocky Mountain ridged mussel could be declared endangered by the federal government.
Provincial officials say the mussel's habitat is negatively affected by the rototilling operations, which have been in place on Okanagan Lake since the 1970s, and imposed harvesting bans in several areas.
But Ottawa decided not to make the endangered species declaration, saying more scientific research on the subject was necessary.
"More research needs to be done to understand some of the perceived conflicts between milfoil control and native species," Littley said. "But ultimately, we see mill control as a public safety issue, both for preventing drownings and maintaining water quality in swimming areas.
"There is also a huge economic component to continuing this program in high-value public areas, and a large body of evidence that suggests controlling milfoil is better for the ecosystems than simply letting it grow," Littley said.
Provincial officials are to give an update on the milfoil and mussel situation at a meeting next week of the OBWB.